Information on the Principal Investigators for the UK Catalysis Hub are detailed below.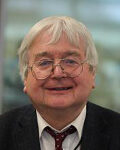 Principal Investigator – Professor Richard Catlow; c.r.a.catlow@ucl.ac.uk
Prof. C.R.A. Catlow has long standing experience in the development and applications of both experimental and computer modelling techniques in catalysis and molecular sciences. He holds approximately £2.5M of current EPSRC funding and has extensive experience in the field of HPC simulation techniques. He has been PI of the EPSRC funded Materials Chemistry HPC consortium for 15 years and has wide experience in managing large flexible consortium grants including a portfolio partnership grant (2005-2010), a High Performance Computing Consortium grant (2008-2013), and is currently the PI of the Centre for Catalytic Science (2011-2016).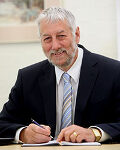 Principal Investigator – Professor Graham Hutchings; hutch@cardiff.ac.uk
Professor Hutchings' most notable discovery is that gold is a remarkable catalyst for certain reactions, most specifically for the production of vinyl chloride, the main ingredient of the world's most commonly used plastic, PVC. As a direct result of his research, a gold catalyst is now being manufactured by UK chemicals company Johnson Matthey at a purpose-built facility in China – the first time in over 50 years that a complete overhaul in catalyst formulation has been implemented to produce a commodity chemical. Testament to the impact of Professor Hutchings' research, he has been given several high-profile awards and honours throughout his career. In 2018 Professor Graham Hutchings was presented with CBE for chemistry and innovation. In 2009 he was elected a Fellow of the Royal Society – the highest honour for a UK scientist – and received the Royal Society's prestigious Davy Medal in 2013.

Principal Investigator – Professor Christopher Hardacre; c.hardacre@qub.ac.uk
Prof. Christopher Hardacre is Director of the UK Catalysis Hub. Research is focused on the understanding of heterogeneously catalysed reactions including water gas shift catalysis, the use of transients to determine gas phase mechanisms, liquid phase hydrogenation and oxidation of pharmaceuticals, low temperature fuel cells and clean energy production. Of particular interest is the development of techniques to probe reaction mechanisms at short time scales in the gas phase and the understanding of solvent effects in liquid phase reactions. Strong interactions exist between his group and the theory group of Prof. Peijun Hu (QUB) in order to develop DFT methods to predict new catalysts and validate the proposals made. He has also developed a strong research group in ionic liquids within the Queen's University Ionic Liquids Laboratory (QUILL) University-Industry research centre with interests in heterogeneously catalysed reactions, structural determination of ionic liquids, and species dissolved therein, analytical aspects, electrochemistry and prediction of physical properties of ionic liquids.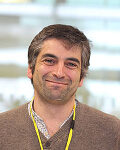 Principal Investigator – Professor Matthew Davidson; m.g.davidson@bath.ac.uk
Matthew Davidson is Whorrod Professor of Sustainable Chemical Technologies and director of the Centre for Sustainable Chemical Technologies at the University of Bath. His research interests are in the application of catalysis to the sustainable manufacture of fuels, materials and chemicals. Following a PhD and Research Fellowship at Cambridge, he held lectureships in Cambridge and Durham before being appointed to a Chair at the University of Bath. He is a Fellow of the Royal Society of Chemistry and a recipient of the Harrison Memorial Prize of the Royal Society of Chemistry and a Royal Society Industry Fellowship. He currently serves on the REF 2014 Chemistry Panel and holds over £13M of funding from research councils and industry.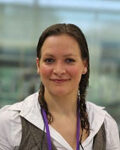 Project Manager – Josie Goodall;
josie.goodall@rc-harwell.ac.uk
Josie started her career in science by studying Materials science, Economics and Management (MEM) at Oxford University (2000-2004). After coming top of her year and achieving a first class degree and Masters in MEM, her science career then took a brief hiatus in during year teaching English in South Korea. On her Return to the UK she started a PhD in Materials Chemistry at Queen Mary University of London (2006) investigating the properties of nano–ceramic materials for Sunscreens and photocatalytic Materials. After completing Her PhD she went on to investigate the synthesis of nano-ceramics as phosphor materials and the synthesis on bio-inspired nano-metal sulphide materials for the electro-catalytic reduction of CO2 at UCL. She has now taken on the Role of Project Manager for the UK catalysis Hub.

Lab Manager – Dr June Callison; june.callison@rc-harwell.ac.uk
June completed her PhD under the supervision of Prof David Lennon at Glasgow University, working on the formation of side products in the polyurethanes industry. June joined the UK Catalysis Hub in 2014 as a Research Technician and is currently working as the Laboratory Manager based at Harwell. June is responsible for the management of the laboratory involving the maintenance and upkeep of instrumentation along with training of students and users. June is also involved in research projects and experimental time at Diamond within the Hub and has experience of catalyst synthesis, reaction testing (batch and flow), analysis (GC-MS, HPLC) and characterisation (EXAFS, FTIR).

Office Manager – Corinne Anyika;
corinne.anyika@rc-harwell.ac.uk
Corinne joined the department in October 2016 and is a member of the professional services team providing support to members of the UK Catalysis Hub.
Research Team at Harwell
Alongside the wide involvement of partner institutions is a team of scientists based fully or partially at RCaH. Their role is to drive the progression of the Centre to become a leading facility nationally, and internationally, in the field of catalytic science. A brief description of the team is detailed below.
42 publications and 3 patents.

Professor and EPSRC Early Career Fellow – Andrew M. Beale;
andrew.beale@ucl.ac.uk
Andy Beale is a professor at UCL and EPSRC Early Career Fellow based at RCaH and UCL Chemistry. His work focuses on establishing structure-function relationships in catalytic solids as a function of both time and space using in situ and operando spectroscopic and scattering methods. Specific areas of interest include the development of novel imaging techniques for the study of single catalyst bodies under real reaction conditions, determining the nature of the active site and reaction mechanism in catalysts for NOx abatement, unravelling the self-assembly mechanism of the microporous materials and the characterisation of catalytically active supported nanoparticles. In 2013, he and a colleague successfully spun out a company (Finden Ltd).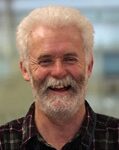 Resident Professor – Mike Bowker;
bowkerm@cf.ac.uk
Professor M. Bowker (Cardiff) works in the fields of surface science, nanoscience and catalysis and has approximately 250 publications, with an h-index of 45. He has worked in both industry (ICI) and academia. He leads the Heterogeneous Catalysis and Surface Science group in Cardiff, consisting of nine academic members of staff and 80 researchers. He founded the Wolfson Nanoscience Laboratory at Cardiff in 2006 and is Deputy Director of the recently established Cardiff Catalysis Institute. His research focuses on adsorption and surface reactivity, ranging from, for example, selective oxidation catalysis, to photocatalysis to studies of adsorption and structure of well-defined surfaces. He has been involved with the Centre at RCAH since March 2011 and spends a significant amount of his time here.
Facilities Members
ISIS – Dr Stewart Parker; stewart.parker@stfc.ac.uk
Diamond Light Source – Professor Andy Dent; andy.dent@diamond.ac.uk