UK Catalysis Hub JMT catalysis medal: Early Career Call Open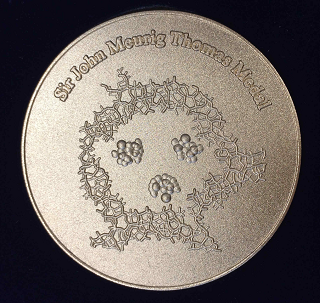 The UK Catalysis Hub has launched the call for the JMT Medal 2023. The medal honours the achievements of Sir John Meurig Thomas, a distinguished professor in the field of catalysis who sadly passed away in 2020. He was a remarkable man and one of the most eminent figures in catalytic science in the past 100 years, who was a pioneer in many of the techniques and concepts that have now become standard in the field. He was generous with his time and support for the UK Catalysis Hub and its events and the Hub is proud to have established 2016 an annual award in honour of his achievements.
The JMT Medal is awarded to a person of outstanding achievement in catalysis or a closely related field every year.
In addition, the winner of the medal will also be invited to deliver a lecture on catalysts as part of the UK Catalysis Hub biannual conferences.
The medal can be awarded to any Scientist working in the UK in one or more fields of Catalytic science and engineering.
The medal will alternate between Scientists in the Early and Mid-career stage. The selection committee will consider the following aspects of all nominations as appropriate:
Collaborative and multidisciplinary nature of their research
Originality and Impact of research
Quality of publications and/or patents
Innovation
The deadline for nominations is 30 September 2023 and the 2023 JMT Medal will be awarded to an *Early Career researcher in Catalysis.
---
Nominations must include:
• Citation (250 word maximum) statement of why the candidate should receive the award. This is the key document in the nomination and this information should be relevant to the achievements for which the award is being offered.
• Biographical Sketch (250 word maximum); this provides background information on the nominee and summarizes past accomplishments.
• Curriculum Vitae (maximum 2 pages – 1 page CV and 1 page publication highlights ).
Please note: Self nominations cannot be accepted
Please send any nominations to josie.goodall@rc-harwell.ac.uk Please use the subject: Nomination for JMT Medal
The JMT medal is generously sponsored by BP, JM, Dr Reddys, RSC Applied Catalysis Group, Givaudan and Sasol.
---
*Early Career is defined as less than 12 years from the start of the PHD. When applying, the panel will consider time spent outside the research environment when assessing eligibility. Additionally, where applicants have taken formal periods of parental leave as the primary carer (either the mother, father, partner or adopter), or extended sick leave, and other career breaks these will be taken into account in considering candidates. Each case will be considered individually and the employing institution may need to confirm that the applicant qualifies for this provision.