The UK Catalysis Hub has supported over £40 million of research working in collaboration with the Hub. The Hub has supported a broad range of projects in biocatalysis, chemo-catalysis and engineering from first grants to programme grants and strategic equipment.

Publications
The Hub has published over 650 publications over since 2013, with an average of 3 institutions involved in each publication demonstrating the collaborative nature and breadth of the hub projects. Papers have been published with institutions across the globe.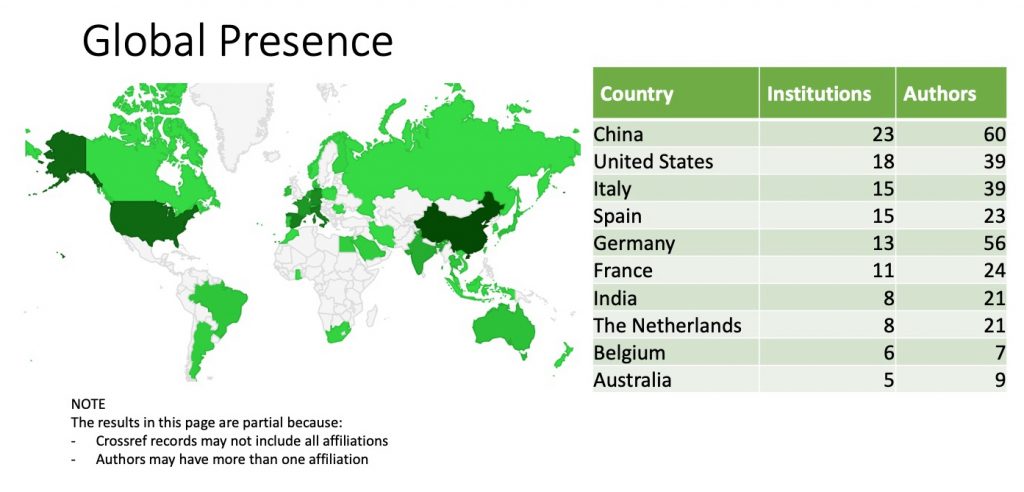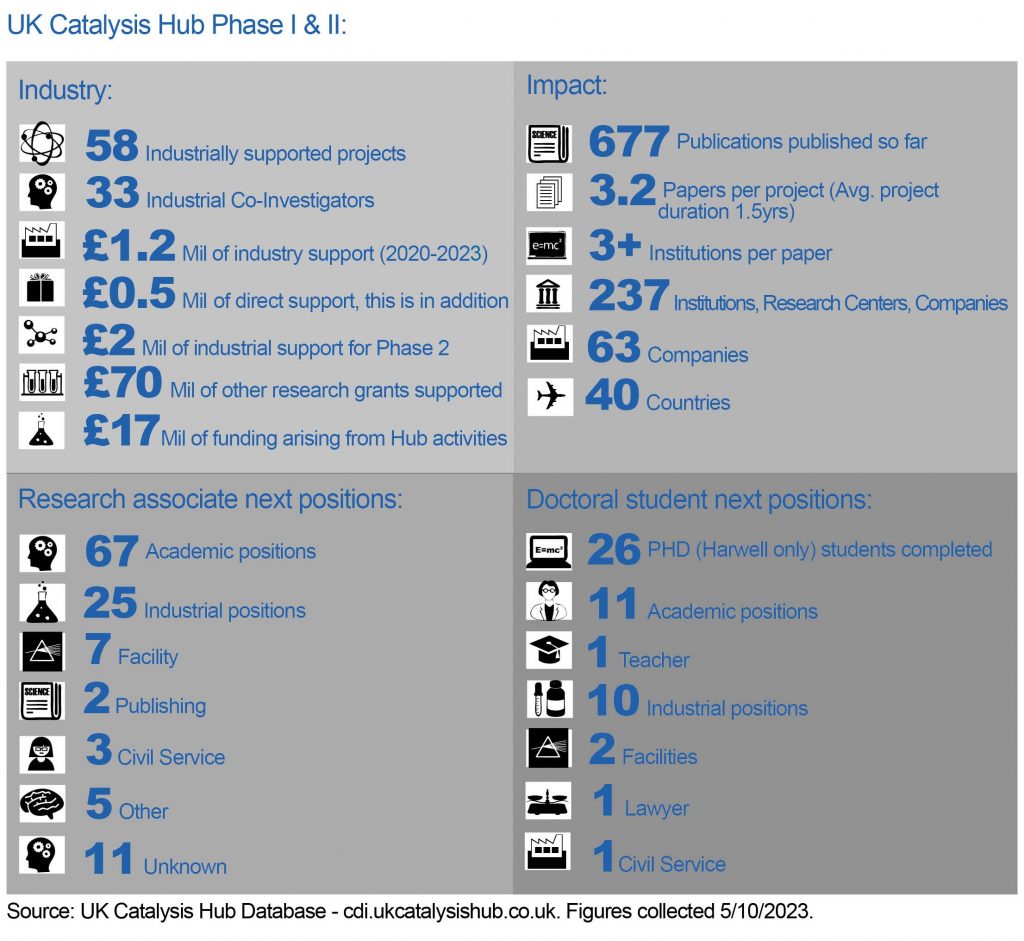 The UK Catalysis Hub also has £17 mil of funding arising from projects through the Hub, workshops leading to grants, impact activities and strategic equipment grants.
Phase I
In phase I the Hub managed 82 projects over the five years in the areas of Catalyst Design, Energy, Environment, Chemical transformations and Biocatalysis.
The Hub has fostered new collaborations from community interaction – e.g the new project involving Kamer and Aldridge; and the developing collaboration between O'Malley (Hub ECR, Cardiff) and Speybroeck (Ghent and presenter at Catalysis Hub conference, 2016), Thomspon (QUB) and Beale (RCaH, UCL) on partial oxidation of methane.
A key component of the work of the Hub, which has been coordinated by the Design theme, has been its strong relationships with the world leading facilities on the Harwell campus, including the Diamond Light Source, the ISIS neutron facility and more recently the Central Laser Facility (CLF); where work of the Hub team has led to the growing use and development of the facilities for catalytic science.
Notable achievements include:
· X-Ray spectroscopy in catalytic science; where the Catalysis Hub in association with Diamond has led a highly successful Block allocation Group (BAG) on the Core XAFS beamline and has supported more than 20 research groups across ten institutions including new users, resulting in more than 32 publications. The Hub has also developed a number of in situ analysis techniques including operando XAFS/DRIFTS technique, which has been widely used by the catalysis community.
· Development of tomographic imaging: A novel and significant development using both DIAMOND and ESRF facilities which has allowed the imaging of real catalytic system in operando.
· Growth in the application of neutron scattering techniques; especially neutron spectroscopy. Here our strong relationship with ISIS has focused on community engagement as well as scientific research through conference and workshops (e.g. neutrons for catalysis in November 2015) and has led to a large increase in the use of neutron techniques for catalysis. Particularly notable has been the rapid growth in the use inelastic neutron scattering (INS) for in situ spectroscopy and Quasi Elastic Neutron Scattering (QENS) and small angle scattering probing molecular transport, surface speciation and confined liquid structures for a range of catalytic systems. Exemplar studies have been highlighted in a recent special issue of PCCP on "Neutron scattering in catalysis and energy materials," (Phys Chem Chem Phys 18 2016) which was edited by Hub scientists (Silverwood, Parker and Catlow). The Hub is also incentivising instrument upgrades and is the major driver for the proposed catalysis laboratory within ISIS.
· Development of laser techniques in catalytic science, where McGregor (Sheffield) has led a Hub project on Optical tweezers for interrogation of catalysts and Beale, (RCaH, UCL) has developed techniques including Kerr gated Raman and Fluorescence Lifetime Imaging (FLIM) for catalysis applications. The applications of Laser techniques for catalysis was disseminated to the community in a workshop organised in collaboration with the CLF (Lasers for catalysis in May 2016).
Training
Of the PDRAS involved in the original cohort

13 PDRAS have lectureships and research positions including one faculty position in the US
3 fellowships
1 beamline scientist
9 industrial positions
1 teacher
Outreach
We have invited 15 EU and 3 international speakers at the UK Catalysis Hub conferences, the Hub has run 4 international bilateral workshops, and contributes to the annual UK catalysis conference which invites international keynote speakers and attracts international attendees.
The Hub will run 2 conferences annually, contribute to the organisation and sponsor a Keynote for the UK Catalysis Conference. In addition the Hub will run a number of workshops (we have run 9 workshops on topics including neutron and laser techniques, emissions, EPR) PDRAS will attend international conferences at least annually.
Over the past 5 years the Hub has been involved in over 15 case projects and has have industrial support on 26 projects had industrial support and 4 had industrial collaborators.