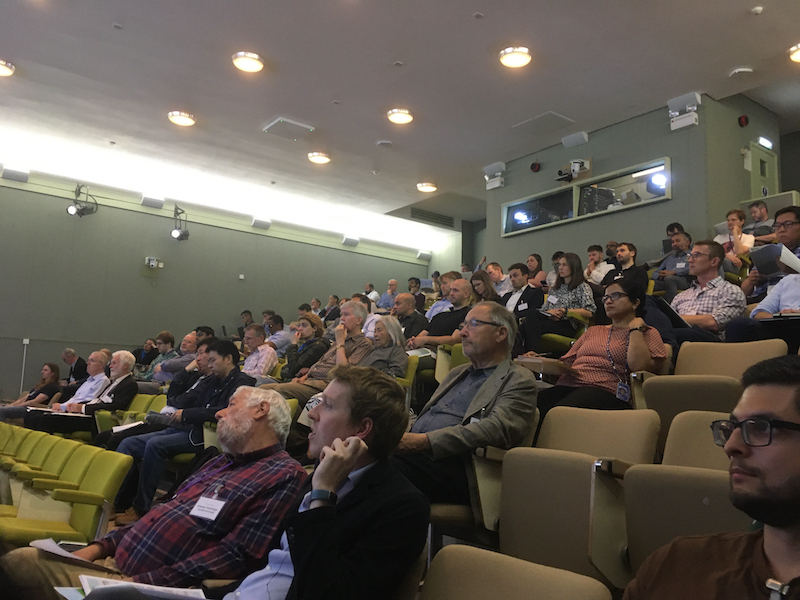 On the 17th and 18th of July the UK Catalysis Hub held its annual summer conference and networking meeting. The Conference took place at the Rutherford Appleton Laboratory, Harwell Campus, Oxfordshire. The event was hybrid event so people had the option to attend virtually.
The conference started at lunchtime on the 17th and the main conference concluded in the afternoon on the 18th July. There was a poster session on the evening of the 17th July and dinner by invitation.
Speakers at the UK Catalysis Hub summer conference included researchers from the Catalysis Hub, internationally renowned speakers and industrialists covering a range of topics in catalysis. The event also included a poster session showcasing work from the Hub postdocs and visitors.
Speakers included:
Click on the names below for presentation recordings, abstracts and biographies
Prof. Nigel Browning, Liverpool
Dr. Emma Campbell, UK Catalysis Hub/Cardiff
Dr. Veronica Celorrio, Diamond Light Source
Prof. Robert Davis, University of Virginia
Assistant Prof. Charlie Fehl, Wayne State University
Dr. Simon Freakley, Bath
Dr. Laurie King, MMU
Prof. Unni Olsbye, University of Oslo
Prof. Dr. Dr. h.c. Joachim Sauer, Humboldt-Universität, Institut für Chemie
Prof. Duncan Wass, Cardiff
Dr. Peter Wells, Southampton
---
Programme:
Click on the names below for presentation recordings, abstracts and biographies:
17 July 2023
12:00 -13:00 – Buffet Lunch – Visitors Centre (R112)
Session 1 – Environment – Pickavance Lecture Theatre (R22)
Chair: Professor Graham Hutchings, Cardiff
13:05 -13:15 – Welcome & Instructions
13:15 -13:55 – Prof. Unni Olsbye, University of Oslo – Site – structure – performance correlations in MOF-based catalysts
13:55 -14:35 – Dr. Simon Freakley, Bath – Revisiting Liquid Phase Hydrogenations using Pd Nanoparticles
14:35 -15:05 – BREAK: Tea and Coffee, Visitors Centre (R112)
---

Session 2 – Energy – Pickavance Lecture Theatre (R22)
Chair: Dr. Amanda Jarvis, Edinburgh
15:05 -15:15 – Introduction – Dr. Amanda Jarvis, Edinburgh
15:15 -15:55 – Dr. Veronica Celorrio, Diamond Light Source – Operando (and ex situ) XAS of oxide electrocatalysts​
15:55 -16:35 – Dr. Laurie King, MMU – Catalyst design and development for electrochemical water splitting
16:35 -17:15 – Prof. Robert Davis, University of Virginia – Oxidation Catalysis by Isolated Co and Rh Atoms in N-doped Carbon – speaking virtually
17:15 -18:25 – Drinks, Exhibition & Posters, Visitors Centre (R112)
19:00 – Dinner by invitation only
---

18 July 2023
8:30 -8:55 – Tea and Coffee, Visitors Centre (R112)
Session 3 – Transformations – Pickavance Lecture Theatre (R22)
Chair: Professor Matthew Davidson, Bath
9:00 -9:10 – Introduction – Professor Matthew Davidson, Bath
9:10 -9.50 – Prof. Nigel Browning, Liverpool – A New Relativistic Ultrafast Electron Diffraction and Imaging (RUEDI) National Facility in the UK
9:50 -10.30 – Assistant Prof. Charlie Fehl, Wayne State University – Deciphering cellular sugar pathways using chemically-controlled carbohydrate probes
10:30 -11:10 – Prof. Duncan Wass, Cardiff – Guerbet Chemistry Renewed – New Directions for an Old Reaction
11:10 -11:30 – BREAK: Tea and Coffee, Visitors Centre (R112)
---

Session 4 – Design – Pickavance Lecture Theatre (R22)
Chair: Professor Richard Catlow, UCL, Cardiff
11:30 -11:40 – Introduction – Professor Richard Catlow, UCL, Cardiff
11:40 -12:20 – Prof. Dr. Dr. h.c. Joachim Sauer, Humboldt-Universität, Institut für Chemie – Ab initio predictions for elementary adsorption and reaction steps in heterogeneous catalysis
12:20 -13:00 – Dr. Peter Wells, Southampton – Development of operando spectroscopic methods and controlled catalyst preparation
13:00 -13:40 – Dr. Emma Campbell, UK Catalysis Hub/Cardiff – The application of Kerr-gated Raman spectroscopy in zeolite catalysed hydrocarbon conversion reactions
13:40 -14:40 – Buffet Lunch, Exhibition & Posters Visitors Centre (R112)
14:40 – CLOSE
---