In this lecture, I will discuss the role of the support in directing the nanostructures of monometallic and bimetallic nanoparticles. The role of support in relation to the catalytic properties of monometallic and bimetallic nanoparticles using different liquid phase reactions will be discussed in detail. The reactions include aerobic oxidation of monohydric and polyhydric alcohols, chemoselective hydrogenation of nitroaromatics, C–C coupling. Finally, examples of combining the catalytic properties of the nanoparticles with that of the support to design multi-functional catalysts to perform cascade reactions will also be discussed. This talk is to emphasize the crucial role of supports, beyond stabilising nanoparticles, in tuning the catalytic activities of supported monometallic and bimetallic catalysts.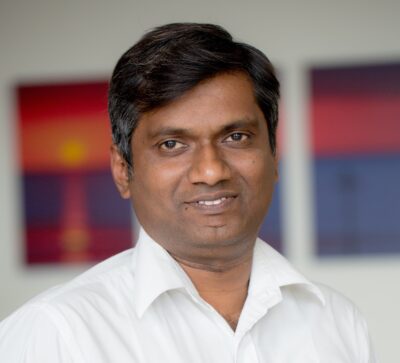 Dr. M Sankar (Cardiff)
Sankar obtained his Bachelors and Masters in Chemistry from Tamil Nadu, India. Then he got his PhD in Heterogeneous Catalysis from the National Chemical Laboratory, Pune, India. After finishing his PhD, he moved to the Cardiff Catalysis Institute as a PDRA. In 2011 he was awarded the prestigious Marie-Curie Intra-European Research Fellowship to continue his research at Utrecht University. In 2014, he moved back to the Cardiff Catalysis Institute and started his independent research group with a University Research Fellowship. Since 2019 he has been working as a Lecturer in Physical Chemistry at Cardiff University.
Honours and awards
Junior & Senior Research Fellowship (2002) by the Council of Scientific and Industrial Research (CSIR), India for PhD Research. Marie Curie Intra European Fellowship for Career Development (2011) by the Research Executive Agency, FP-7. University Research Fellowship (2014) by Cardiff University, UK. Selected to participate in the Welsh Crucible. 
Click below to watch a recording of the presentation: