John is a Professor of Structural Biology focused on the global challenge of plastic pollution and leads a team of scientists researching natural enzyme discovery and engineering. Their work revealed the detailed workings of an enzyme that can digest polyethylene terephthalate (PET), and more recently, demonstrated that engineering these enzymes can increase the speed of breakdown. Found in single-use drinks bottles, packaging, clothing and carpets, PET can take centuries to decompose, and together with other plastics, is accumulating in our environment at a staggering rate. A biological catalyst that can break PET down into its original building blocks opens new opportunities for recycling towards a circular plastics economy.
Their work on PET-digesting enzymes has been widely covered in the media following two key papers in 2018 and 2020 in the journal PNAS, and the project received the Times Higher Education STEM Research Project of the Year in 2019. The group is rapidly expanding due to a £6 million grant from Research England which has allowed the recruitment of 15 additional researchers for the new Centre for Enzyme Innovation (www.port.ac.uk/cei). The focus of the group remains the engineering of biological catalysis for the breakdown of a wide range of natural and synthetic polymers. The group recently joined the BOTTLE (www.BOTTLE.org) consortium which offers new opportunities for true interdisciplinary research across the diverse areas required to tackle the global plastic pollution crisis.
Professor John McGeehan, Director, Centre for Enzyme Innovation, School of Biological Sciences, University of Portsmouth, United Kingdom
Resources:
BBC Earth Interview https://www.facebook.com/118883634811868/videos/1811492739009038
Bloomberg Interview https://youtu.be/DDhPuyrSq3E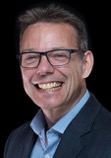 John graduated from the University of Glasgow in 1993, with a BSc (Hons) degree in Microbiology, before going on to complete a PhD in Virology at the MRC Virology Unit, Glasgow. His research career continued at the University of York, before joining the University of Portsmouth in 2000, working on DNA-binding proteins. In 2005, he completed a Postdoctoral Fellowship with the EMBL-Grenoble, France, researching crystallography at the large European synchrotron. In 2007, he re-joined the University of Portsmouth as an RCUK Fellow, was appointed to Reader in 2012 and Professor in 2016. He founded the Centre for Enzyme Innovation in 2019 where he is currently Director.
View this talk below: