Empirical potential structure refinement (EPSR) has been used to simulate and probe mixtures of benzene and cyclohexane when confined in the pores of MCM-41. This study has been enabled by the development of an innovative combined NMR and total neutron scattering system. This technique allows for time resolved chemical compositions that coordinate directly with simultaneously collected neutron data to be obtained. This technique has huge potential in understanding the influence of confinement during heterogeneously catalysed chemical reactions on the molecular scale.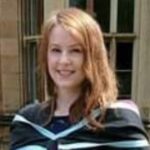 Terri-Louise Hughes (Manchester)
I am currently a postdoctoral research associate at the University of Manchester, within the Catalysis and Porous Material's group. I recently finished my PhD, which was heavily focused on using EPSR and the developed neutron/NMR system to study heterogeneous catalysis. Prior to that I graduated with my masters degree in chemistry from Queen's University Belfast.
View this talk below: