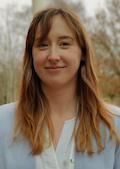 Emma Campbell; campbelle3@cardiff.ac.uk
Emma has been working as a core PDRA at the Catalysis Hub since August 2021, and works closely with the Central Laser Facility to use their Kerr-gated Raman and fluorescence lifetime techniques to characterise catalytic intermediates in reaction mechanisms. Her current projects include studying propane dehydrogenation and chemical recycling of end-of-life plastics. Emma completed her PhD in 2021 through UCL under the supervision of Prof Andrew M Beale and Dr Inés Lezcano-Gonzalez, studying mechanisms in zeolite catalysts using vibrational spectroscopies, and received her MChem Chemistry degree in 2015 from Cardiff University.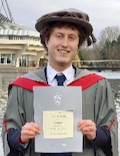 George Clarke; george.clarke@york.ac.uk
George did his PhD in 2015 at the University of York with Professor Ian Fairlamb (Department of Chemistry), Professor Julie Wilson (Department of Mathematics), Dr John Slattery (Department of Chemistry) and Dr Jason Lynam (Department of Chemistry) on 'Understanding Complex Pd-catalysed Reaction Systems Through Automated Chemistry, Data Analysis and Mechanistic Studies.' A University of York Chemistry Teaching Studentship was awarded to fund his PhD studies. His project was also supported by the POLARIS project, funded by the Centre for Future Health initiative. George is now doing a PDRA role in catalysis led by Professor Ian Fairlamb with further collaborations with the Department of Mathematics at the University of York (Professor Julie Wilson), University of Durham (Dr Simon Beaumont), University of Leeds (Professor Richard Bourne and Dr Charlotte Willans) and GSK (Dr Katherine Wheelhouse and Dr Damian Hruszkewycz) in both the UK and the US for this project. The project is on understanding ligand effects on Pd and Ni-based complexes in catalysis using automation and data analysis. UK Catalysis Hub and GSK fund the project.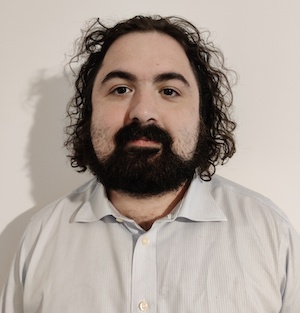 Donato Decarolis; decarolisd@cardiff.ac.uk
Dr. Donato Decarolis did his PhD at University College of London with Prof. Andrew M. Beale. His project was concerned with exploring the effect of precious metal nanoparticle size and support type on catalytic activity using in situ spectroscopy method, with a particular focus on X-ray absorption spectroscopy (XAFS). In 2017 he joined Dr. Martin Attfield group, the Centre for Nanoporous Materials, as a postdoctoral research associate. His project involved a collaboration with BP, underneath the parameters of BP-ICAM, to study the absorption of CO and N2 of Metal-organic frameworks and using X-ray absorption spectroscopy to investigate electronic or structure modification upon gas absorption. Subsequently he joined Dr. Peter P. Wells at University of Southampton in 2018, to work within the Synchrotron Techniques for African Research and Technology (START) project. Since March 2019 he joined the UK Catalysis Hub where he works as Research Associate in Synchrotron Method for Catalysis. His main role consist in developing an understanding of the structure-activity relationship of catalysts using advanced operando characterisation techniques. His particular interest lies in the application of combined spatially resolved methods in order to have improved overview of the nature of a catalyst bed and its behaviour as function of external solicitation (e.g. gas, temperature).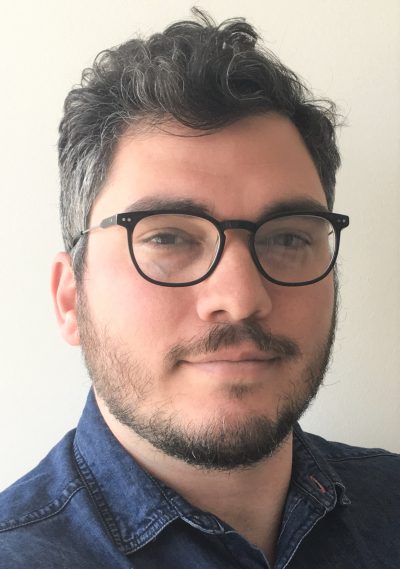 Maicon Delarmelina; delarmelinam@cardiff.ac.uk
Dr Maicon Delarmelina attained his PhD in 2018 from Fluminense Federal University, Rio de Janeiro, Brazil. Shortly after, he was granted a Post-Doctoral Fellowship in the same group by the Carlos Chagas Filho Foundation for Research Support of the State of Rio de Janeiro (FAPERJ) to investigate new Frustrated Lewis Pairs containing N-heterocyclic carbenes for the activation of small molecules and hydrogenation of CO2. In February 2019 he joined the group of Prof Richard Catlow at Cardiff University as a Post-Doctoral Research Associate and is currently investigating by state-of-the art DFT calculations new zirconia-based catalyst for upgrading bio-oils obtained from hydrothermal treatment of wastewater solids. The main goal of this project is to develop more efficient catalytic systems for the production of biofuels and added-value chemicals from wastewater biomass. Different aspects of zirconia will be explored at atomic scale (ambient pressure phases, distinct facets, doped-ZrO2, and metal-supported ZrO2) to aid identifying and rationalizing distinct catalytic performances. For this purpose, computational approaches will be used to investigate effects of structure and chemical modifications of ZrO2 on the acidity and basicity of these materials, as well as their catalytic performance towards the transformation of bio-oil model molecules.

William Dlamini; DlaminiM@cardiff.ac.uk
Dr William M. Dlamini completed his PhD (2016) in the School of Chemistry, University of the Witwatersrand, South Africa, working on a project entitled; "Spherical carbons as model supports for Fe, Co and Fe-Co Fischer-Tropsch catalysts". The project was funded by the Centre of Excellence in Catalysis (c*change) and was done in collaboration with the University of Cape Town. Dlamini then did his Postdoctoral Fellowship with Prof. Neil Coville (2017 – 2018) at the same institution, focusing on the preparation multifunctional core-shell catalysts aimed at a tandem process involving the synthesis of hydrocarbons and their secondary hydrocracking on other active sites of the same catalyst. At present, William is based at Cardiff University working with Prof. Graham Hutchings, Prof. Phil Davis and Prof. Chris Hardacre (Manchester), on a project entitled "High salinity resistant catalysts for the destruction of organics in produced waters". This project aims to advance the understanding of solardriven wastewater treatment protocols by studying them under rather harsh reaction conditions.

Balakumar Emayavaramban; emayavarambanb@cardiff.ac.uk
Balakumar received his Ph.D. from the Indian Institute of Technology Kanpur. The main focus of his research was the base metal catalyzed (de)hydrogenative functionalization. In 2014 he joined the Prof. Duncan Wass group as a PDRA at Cardiff University in 2021. His role is to synthesize and characterize new and known organometallic complexes and their homogeneous catalytic screening for bio alcohol and carbon dioxide valorization reactions. A major focus of their project is to develop potential metal catalysts for the synthesis of the advanced biofuel isobutanol via the Guerbet reaction. The Guerbet reaction is a potential green process for bio alcohol synthesis by utilizing renewable feedstock chemicals and producing water as the sole side product. This current project is funded by EPSRC and the UK Catalysis Hub.

Arthur Graf; grafa2@cardiff.ac.uk
Arthur got his PhD in chemical-physics/spectroscopy from the University of Sheffield last year under the supervision of Dr Adrien Chauvet. His research field is X-Ray Photoelectron Spectroscopy (XPS)/surface science, which led him to join Prof. Phillip Davies at Cardiff University (CU)/HarwellXPS. His current project in the Catalysis Hub aims to use the newly acquired Photo-Induced Force Microscopy (PiFM) machine at CU as a tool to characterise Janus particles. PiFM not only allows investigation of materials morphology but also localised chemical characterisation; hence it maps the chemical properties of the material and how they are distributed over the structure.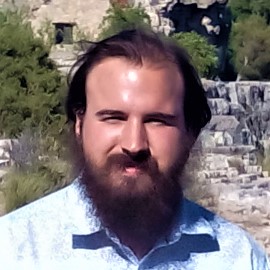 Michael Higham; HighamM@cardiff.ac.uk
Michael Higham completed a PhD in Chemical Science and Technology at the Institut Català d'Investigació Química (ICIQ, Catalan Institute of Chemical Research) in November 2017. Michael joined Prof. Sir Richard Catlow's group at Cardiff University in August 2018, supported by the GCRF (Global Challenges Research Fund) START (Synchotron Techniques for African Research and Technology) project, providing computational insights to support experimental work utilising the synchrotron facilities at Diamond, focusing on Cu-based catalysts for methanol synthesis from CO2. In September 2021, Michael joined Prof. Catlow's UCL team as a postdoctoral researcher and is currently investigating metal nitride catalysts and nitrogen looping materials for ammonia synthesis, in collaboration with Prof. Justin Hargreaves at the University of Glasgow.

Abraham Nieva de la Hidalga; NievadelaHidalgaA@cardiff.ac.uk
Abraham Nieva de la Hidalga received his PhD from the School of Computer Science of the University of Manchester (UK) in 2010. After his PhD, he collaborated as a research assistant at the Manchester Business School on two projects. In COMMIUS, he participated in the development of a JAVA/OSGI based e-commerce mail filtering system. In SOA4ALL, he helped documenting common workflow patterns to support end-users building web-service mashups (ad-hoc workflows). In 2012, he joined the Biodiversity Informatics Research group at the Cardiff University School of Computer Science and Informatics, as research associate in the BioVeL project. After BioVeL, in 2015, he obtained a scholarship (CONACYT-Mexico) for a postdoctoral project developing a virtual biotechnology laboratory at Polytechnic University of Puebla, building on his work at BioVeL. He returned to the Cardiff University School of Computer Science and Informatics (2016), as research associate in the Data and Knowledge Engineering Group, collaborating in ENVRIplus and ICEDIG. In ENVRIplus, he analysed and modelled large-scale systems for environmental research. In ICEDIG, he documented quality management standards and methods for specimen's digitisation workflows and rapid 3D digitisation; oversaw cloud platforms testing for data storage; researched semantic image segmentation; and built a prototype interface for a digital specimen repository. He joins the UK Catalysis Hub Team as a research associate in data management and software development.

Muhammad Kamran; mmk70@bath.ac.uk
In 2017, Muhammad moved to UK for his PhD at University of Bath, working under the supervision of Prof. Matthew Davidson and Dr Sicco de Vos (Corbion) as part of the centre for sustainable and circular technology CDT project. The project was funded by Marie Skłodowska-Curie FIRE fellowship (MSCA-FIRE). In his doctoral studies, Muhammad has worked closely with his industrial partner to develop an environmentally benign catalytic system for semi-aromatic polyamide synthesis starting from FDCA as a renewable monomer. Following his doctorate, Muhammad became a member of the UK Cat Hub community after being offered a postdoctoral position in 2021. In this exciting new project, he is working on the development of diformylfuran (DFF) as a sustainable platform chemical for a range of novel monomers for polymer synthesis and to investigate their structure-property relationship.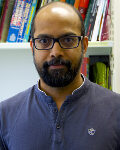 Santhosh Matam; s.matam@ucl.ac.uk
Santhosh Kumar Matam is a research associate at Cardiff University with Prof. Sir C. Richard A. Catlow, FRS and is based at the UK Catalysis hub, STFC Rutherford Appleton Laboratories, Harwell. He earned his PhD in a German Research Foundation project from Humboldt University of Berlin, Germany. The Research Council of Norway fellowship and Swiss National Foundation grants helped him to pursue his research. Santhosh's research activities are primarily centred on in situ/operando spectroscopy for deriving catalyst structure-activity relationships. He employs Neutrons, X-rays and Laser based techniques and closely collaborates with computational chemists with an aim to design and develop inorganic solid materials for energy and environmental applications, which include carbon neutral renewable energy and exhaust after-treatment technologies. He is also interested in operando reactors that allow real operation of chemical processes without intrinsic limitations.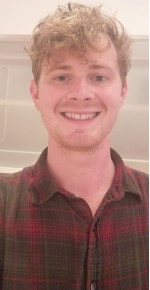 Thomas McGuire; thomas.mcguire@chem.ox.ac.uk
In 2021, Thomas completed his PhD at the University of Bath, supervised by Dr Antoine Buchard. The subject of his PhD thesis was the synthesis of oxygenated polymers and the exploration of the impact of stereochemistry on material properties. In 2019, alongside his PhD, Thomas spent time in Japan as a JSPS summer program fellow. The project involved a short-term research secondment at Nagoya University, hosted by Professor Masami Kamigaito. In this work, they developed a bioderived vinyl monomer for the preparation of stimuli-responsive star polymers. After completing a 3-month research position with Professor Matthew Davidson, Thomas took up a PDRA working with Professor Charlotte Williams in early summer 2021. They are investigating the chemical recycling of oxygenated polymers.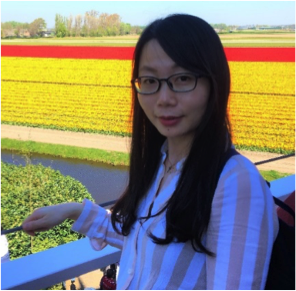 Xiaoxia Ou; xiaoxia.ou@manchester.ac.uk
Xiaoxia completed her PhD (2017) in Dr. Xiaolei Fan's group from the school of chemical engineering and analytical science, the University of Manchester. Xiaoxia's PhD project included: 1) developing hieratically structured catalysts based on cellular silicon carbide foams; 2) demonstrating the application of the developed catalysts for environmental catalysis. After her PhD, she stayed in the same research group as a research associate for one year, studying the catalytic bio-oils upgrading by hierarchical catalysts. From December 2018, Xiaoxia has been a research associate in the same department in the University of Manchester and UK Catalysis Hub, under the supervision of Prof. Chris Hardacre. Currently, her research interest focuses on heterogeneous catalysis for environmental applications and she is working on the project "Treatment of high ionic strength wastewater". Severe water shortage and water pollution have addressed the issue of clean water, demanding the development of efficient catalysts in wastewater treatment field for water reuse.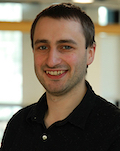 Arran Plant; a.plant@lancaster.ac.uk
Arran recently joined the UK Catalysis Hub in late 2022, starting work as a PDRA in heterogeneous catalysis at Lancaster University led by Dr Xiaodong Wang in collaboration with Shelley Minteer (Utah), Russell Howe (Aberdeen), Alan McCue (Aberdeen), and Xinbin Ma (Tianjin). This project aims to develop a heterogeneous catalytic system to reduce CO2 into simple molecules such as formic acid using cofactor NADH (reduced nicotinamide adenine dinucleotide) as a hydride donor. The effectiveness of low-cost metals and support materials for this reduction process is a focus of this work, ideally to discover a process that could be industrially competitive. This project continues the previous Catalysis Hub and EPSRC projects that have developed heterogeneous materials for NAD+ (oxidised nicotinamide adenine dinucleotide) regeneration.

Cameron Price; cameron.price@manchester.ac.uk
Cameron undertook his PhD at the University of Surrey under Dr Jian Liu and Dr Tomas Ramirez-Reina's supervision, focusing on developing transition metal yolk@shell catalysts for CO2 valorisation. During his second year, he successfully secured a Santander mobility grant, which facilitated a 2 month placement at the Dalian Institute of Chemical Physics (DICP) in China. Applying encapsulated catalytic sites as a strategy to prolong catalytic lifetime represents a personal research interest, which links to his current PDRA position at the University of Manchester at Harwell and the UK Catalysis Hub. The focus of Cameron's current work, under the guidance of Dr Parlett and funded by the EPRSC, is the development of novel core@shell catalysts to achieve the valorisation of hexoses to value-added chemicals, such as fuels and monomers, with the aim of reducing humin formation by considered catalyst design for cascade processes.

Matthew Quesne; QuesneM@cardiff.ac.uk
Dr. Matthew Quesne undertook a PhD at the Manchester Institute of Biotechnology under the supervision of Dr Sam de Visser, in the fields of bio-mimetic and enzyme catalysis. He focused on modelling the catalytic activity of synthetic complexes of transition metal dependent homogeneous catalysts. Over the four years spent at Manchester he worked with dozens of different experimental groups and provided the in silico components to many joint computational/experimental studies. He joined the research group headed by Dr Tomasz Borowski at the Institute of Catalysis and Surface Chemistry Polish Academy of Science in Krakow (Poland) in November 2014, where he spent two years using MD, QM/MM and cluster model techniques to model enzyme catalysed reaction mechanisms. In 2016, he moved to Cardiff to work in Prof. Catlow's group where he studied CO2 activation on a variety of transition metal carbides. This work formed a small part of a much larger EPSRC project that aimed to bring together several groups from across the UK in a multi-disciplinary fashion in order to develop integrated techniques for utilising CO2 as a feedstock for the production of fuels and fine chemicals. Matthew started his position with the UK Catalysis Hub in March of 2019 and is focused on the intersection of the modelling of heterogenously and homogenously catalysed reaction mechanisms.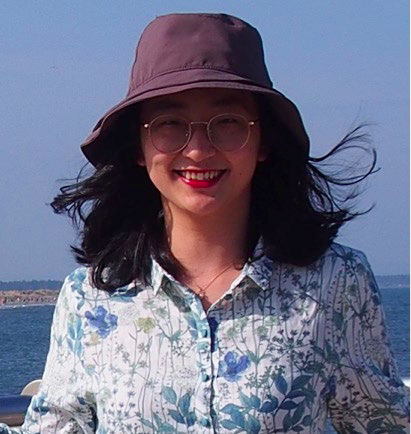 Yiping Shi; yiping.shi@durham.ac.uk
Dr. Yiping Shi (Sherry) comes from China and completed the MSci degree in Chemistry with one year industrial placement in the University of Bristol. She then completed her PhD (2018) in Chemistry in the University of St. Andrews, working under the supervision of Prof. Paul Kamer and Prof. David Cole-Hamilton. Her PhD research covers organic synthesis, homogeneous catalysis and organometallic chemistry, and was focused on the development of new catalytic routes for the production of value-added materials, such as polymer precursors and pharmaceutical drugs from waste biomass (eg. tall oil and cashew nut shell liquid). After her PhD, she then worked on two industrial projects under the supervision of Dr. Paul Webb in the same department, concentrated on the heterogeneous catalysis to convert food waste into value-added materials using mainly flow systems. On the 1st of July she became a postdoctoral research associate in the University of Durham, working under the supervision of Dr. Phil Dyer (Durham) and Prof. Andrew Weller (Oxford) on a project entitled "Cascade catalysis: bio-derived butanol to propene via dehydration and metathesis."

Christina Stere; cristina.stere@manchester.ac.uk
Dr Christina completed her PhD in Chemical Engineering in 2012 from the Queen's University Belfast under the supervision of Prof Alex Goguet and Prof Chris Hardacre on the development and application of a spatially resolved technique for the investigation of structured catalysts under real reaction conditions. She then continued as a PDRA at the same university working on plasma assisted reactions for automotive emission control coupled with developing state of the art spatially resolved techniques and DRIFT-MS system to allow in-situ studies of heterogeneous catalysts in the presence of plasma. She is currently working at the University of Manchester in the group of Prof. Chris Hardacre. Her current project looks at scalable production of high purity hydrogen through Water Gas Shift using a hybrid non-thermal plasma process and further development of in-situ DRIFTS technique for plasma reactions.

Alexandros Symillidis; a.symillidis2@lboro.ac.uk
Alexandros is a research associate at the Department of Chemical Engineering of Loughborough University working on a UKCH-funded project for the development of transmission metal carbides (TMC)-supported Pt-electrodeposited electrocatalysts for hydrogen evolution (HER) in alkaline conditions. Alexandros completed his PhD in Chemical Engineering at Loughborough University in 2021 on Pd/polyaniline-based electrocatalysts for the electro-oxidation reaction of ethanol in alkaline conditions for DEFCs, under the supervision of Prof. Wen-Feng Lin. Previously, Alexandros had worked on CO2 recycling (hydrogenation) towards hydrocarbons and PEM fuel cells for his MSc and undergraduate diploma theses respectively in the Department of Chemical Engineering of the University of Patras.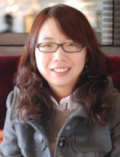 Yibo Zeng; yibo.zeng@rfi.ac.uk
Dr. Yibo Zeng completed her PhD (2009) from Department of Chemistry, the University of Hong Kong on the projects: 1) The histidine- and glutamine-rich Hpn-like protein in Helicobacter pylori; 2). The mechanism of inhibiting urease activities by bismuth compounds. Then she joined Prof. Chi-Ming Che's group in the same department as a research associate, studying the attenuation of Wnt-β catenin pathway in human cancer cells by ruthenium compounds. In 2012, she changed her research area from biological chemistry to immunology, and worked as a postdoctoral fellow in Department of Pharmacology and Molecular Sciences, Johns Hopkins University (USA) in Prof. Thomas J. August's group. The focus of her research included the construction of novel HIV-DNA vaccines, and with the help of lysosome-associated membrane proteins (LAMP), the antigenic peptide epitopes of proteins could be delivered to helper (CD4) T-cells to enhance the humoral and cellular immune responses. At present, she is now a postdoctoral research associate of Cardiff University, UK Catalysis Hub and University of Oxford, under the supervision of Prof. Graham Hutchings (Cardiff) and Prof. Benjamin Davis (Oxford), on the project 'Exploring model systems for applying catalysis inside living systems with a view to medical application'.