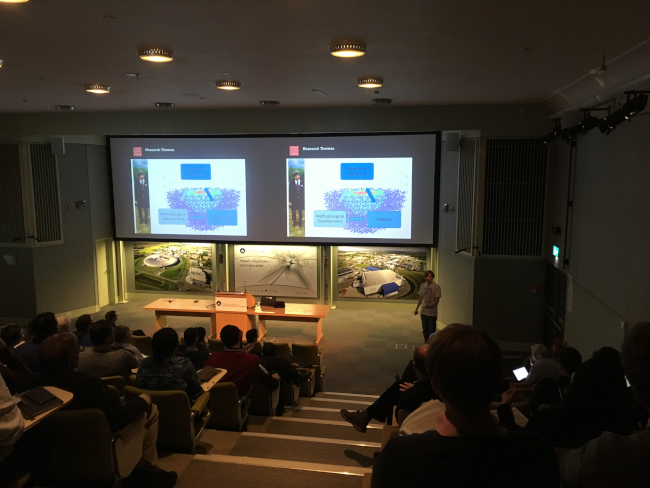 When: 20 & 21 June 2022
Where: Rutherford Appleton Laboratory, Harwell Campus, Fermi Avenue, Didcot, Oxfordshire, OX11 0QX
On the 20th and 21st of June 2022 the UK Catalysis Hub will host its annual summer conference and networking meeting. The Conference will take place at the Rutherford Appleton Laboratory, Harwell Campus, Oxfordshire. The event will be a hybrid event so we will have the option to attend virtually for those who can't attend in person. Please choose a virtual ticket when registering if you are unable to attend in person.
The conference will start at lunchtime on the 20th and the main conference will conclude at lunchtime on the 21st June.
There will be an exhibition on the evening of the 20th June on work developing catalytic processes for Net zero including more effective use of water and energy, waste minimisation, and material reuse and reduction by scientists from institutions across the UK connected with the UK Catalysis Hub. Exhibitions include; A step towards net zero carbon emissions, Catalysis in Schools Outreach, How Catalysis can Enable a Sustainable Future Beyond Oil: The Royal Society Summer Science Exhibition 2022, Prof. Graham Hutchings' research group – Cardiff University and Prof. Philip Davies research group – Cardiff University.
A poster session will run alongside the exhibition showcasing work from the Hub postdocs. A conference dinner by invitation will take place later in the evening on the 20th June.
We are pleased to announce Prof. Andrew Harrison, OBE, FRSE, FRSC, Chief Executive, Diamond Light Source will be giving a public lecture at the UK Catalysis Hub summer conference. He will be speaking about his work at Diamond on Covid and the scientific opportunities with Diamond II for scientific research. Registration for the summer conference includes the public lecture.
Speakers at the UK Catalysis Hub summer conference include researchers from the Catalysis Hub, internationally renowned speakers and industrialists covering a range of topics in catalysis.
Speakers include:
Click on a speaker name to see the talk abstract and biography.
Prof. Fernando Rey Garcia (Director of ITQ)
Assoc. Prof. Sheima Khatib (Texas Tech)
Prof. Bright Kwakye-Awuah (KNUST)
Dr. Devis Di Tommaso (Queen Mary University of London)
Dr. Cristina Stere (Manchester)
Register for free at https://www.eventbrite.com/e/uk-catalysis-hub-summer-conference-2022-tickets-296895732127
Conference venue & travel information:
Please see the google map for directions to Harwell Campus. If you have dietary requirements or allergies, please make yourself known to staff. After the dinner attendees will need to arrange their own transport back to their accommodation.
Accommodation:
Attendees need to organise their own accommodation.
There are also several local hotels including:
As above, please contact the hotels directly to book​.
COVID-19:
If you could please take a lateral flow test before attending the conference, it would be greatly appreciated as we continue to monitor the COVID-19 situation. These can be collected from any pharmacy. Masks are now at visitors own discretion but we encourage you to wear a mask whilst moving around the building. We also ask you try to maintain social distancing where possible. The number of people attending the conference has been limited to help facilitate social distancing.
Please let us know if you can no longer attend in person as we have people on a waiting list that would like to attend.