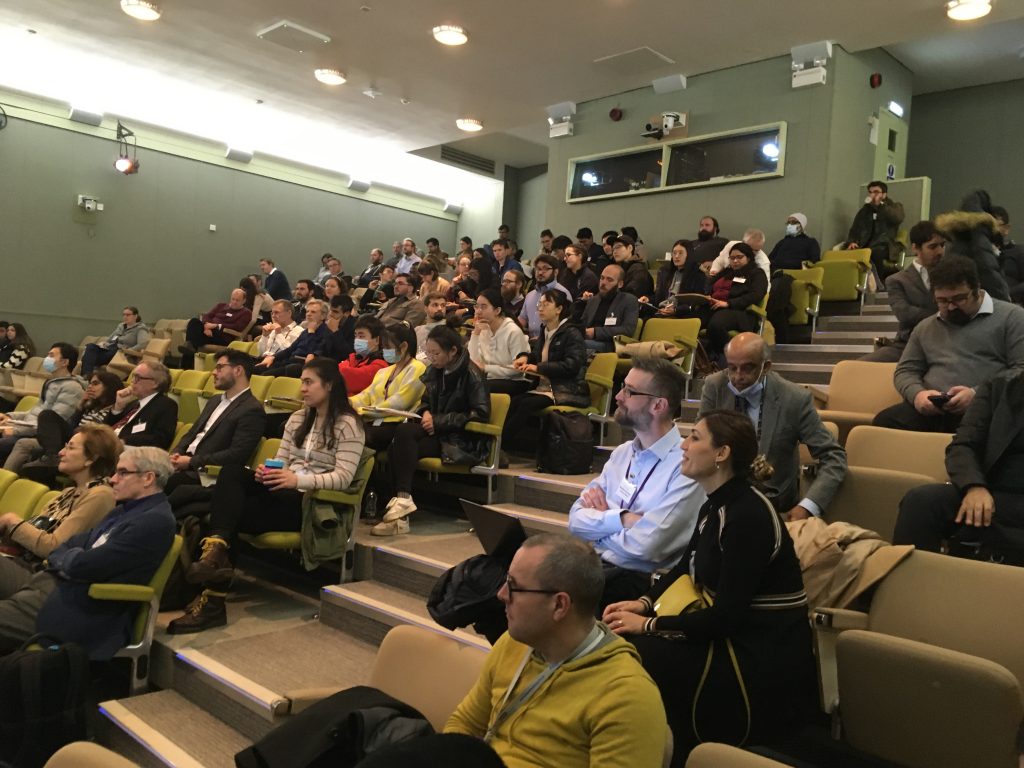 When: 29 & 30 November 2022
Where: Rutherford Appleton Laboratory, Harwell Campus, Fermi Avenue, Didcot, Oxfordshire, OX11 0QX
On the 29th & 30th of November 2022 the UK Catalysis Hub held its annual winter conference and networking meeting. The Conference took place at the Rutherford Appleton Laboratory, Harwell Campus, Oxfordshire.
The conference began at lunchtime on the 29th with lectures, the JMT medal presentation, a poster session in the evening of the 29th November and dinner by invitation.
The Conference also included memorial sessions for Sir John Meurig Thomas, a distinguished professor in the field of catalysis who sadly passed away in 2020. He was a remarkable man and one of the most eminent figures in catalytic science in the past 100 years, who was a pioneer in many of the techniques and concepts that have now become standard in the field. He was generous with his time and support for the UK Catalysis Hub and its events and the Hub is proud to have established 2016 an annual award in honour of his achievements and this session also included the presentation of the JMT medal for Catalysis to Prof. Stuart Taylor (Cardiff).
Speakers at the UK Catalysis Hub winter conference included researchers from the Catalysis Hub, internationally renowned speakers and industrialists covering a range of topics in catalysis. Watch recordings of presentations from the conference.
Speakers included:
Prof. Fraser Armstrong, Oxford
Dr. Benjamin Bhawal, Edinburgh
Daniil Boiko, Carnegie Mellon University
Prof. Paul Cox, Portsmouth
Prof. Sankar Gopinathan, UCL
Prof. Thomas Maschmeyer, Sydney
Gerhard Mestl, Clariant
Prof. Eranda Nikolla, University of Michigan
Dr. Firdaus Parveen, Liverpool
Prof. Robert Schlögl, Fritz-Haber-Institut der Max-Planck-Gesellschaft
Prof. Martin Schröder, Manchester
Prof. Magda Titirici, Imperial
Prof. Paul Wright, St. Andrews
---
PROGRAMME:
Click on the talk titles below to view recordings of the talks, abstracts and speaker biographies:
29 November 2022
11:45 -12:25 – Buffet Lunch – Visitors Centre (R112)
Session 1 – Pickavance Lecture Theatre (R22) Chair: Professor Richard Catlow, UCL, Cardiff
12:25 -12:35 – Welcome – Introduction to the JMT memorial Lectures
12:35 -13:15 – Prof. Robert Schlögl, Fritz-Haber-Institut der Max-Planck-Gesellschaft – Operando Spectro-Microscopy in Catalysis – Watch Now
13:15 -13:55 – Prof. Thomas Maschmeyer, Sydney – Catalysis – Excitement and Utility – Watch Now
13:55 -14:35 – Prof. Fraser Armstrong, Oxford – Enzyme Cascades – Nanoconfined and Electrified:
A New Technology for Biocatalysis
14:35 -14:55 – Prof. Sankar Gopinathan, UCL – Combined Scattering and spectroscopic methods: A valuable tool to determine atomic architecture of reacting solids
14:55 -15:15 – Prof. Paul Wright, St. Andrews – The Designed Synthesis and Operando Study of Microporous Catalysts – Watch Now
15:15 -15:45 – BREAK: Tea and Coffee, Visitors Centre (R112)

Session 2 – Pickavance Lecture Theatre (R22) Chair: Professor Christopher Hardare, Manchester
15:45 -16:25 – Prof. Paul Cox, Portsmouth – Modelling Industrially Important Biological and Chemical Catalysts? – Watch Now
16:25 -17:25 – Sir John Meurig Thomas Medal Presentation – Special winner announcement and presentation: Prof. Stuart Taylor (Cardiff) – Watch Now
17:25 -18:25 – Poster Session & Refreshments, Visitors Centre (R112)
19:00 Dinner by invitation only

30 November 2022
8:30 -8:55 – Tea and Coffee, Visitors Centre (R112)
Session 3 – Pickavance Lecture Theatre (R22) Chair: Dr Amanda Jarvis, Edinburgh
09:00 -09:05 – Welcome
9:05 -9:45 – Prof. Martin Schröder, Manchester – Porous Metal-Organic Framework (MOF) Materials for Substrate Capture and Catalysis
9:45 -10:25 – Dr. Benjamin Bhawal, Edinburgh – Reversible catalysis: back and forth
10:25 -11.05 – Gerhard Mestl, Clariant – EDHOX™ Technology: Successful Joint Industries – Academia Development of an attractive alternative for ethylene production – Speaking virtually – Watch Now
11.05 -11:25 – BREAK: Tea and Coffee, Visitors Centre (R112)

Session 4 – Pickavance Lecture Theatre (R22) Chair: Professor Andrew Beale, UCL
11:25 -12:05 – Prof. Magda Titirici, Imperial – Biomass derived and bioinspired aqueous electrocatalysis – Watch Now
12:05 -12:35 – Dr. Firdaus Parveen, Liverpool – Flow advancement in the field of catalysis and macrocycles
12:35 -13:05 – Daniil Boiko, Carnegie Mellon University – Automating electron microscopy with deep learning for studying Pd/C catalysts – Speaking virtually – Watch Now
13:05 -13:45 – Prof. Eranda Nikolla, University of Michigan – Not What is Seems: Evolution of Catalysts at Solid-Liquid Interfaces During Water Electrolysis – Speaking virtually
13:45 -14:30 – Buffet Lunch Visitors Centre (R112)
14:30 – CLOSE